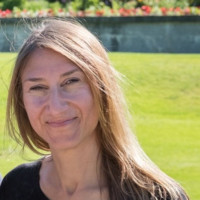 Wanda Krause, PhD, is Program Head of the MA in Global Leadership at Royal Roads University, Canada, Assistant Professor in the School of Leadership Studies Program, and teaches in both programs. The MA in Global Leadership program addresses the need in society to educate and develop professionals and business leaders in both the private and public sector to be capable of working in global or multicultural contexts. Wanda has lead two teams, each for the founding of a centre for the study of civil society and an MA university program in the Middle East, consulted on the development of another MA program in the Middle East, and co-founded an Integral Life practice centre in Yukon, Canada. While she lives with her family in Victoria, Canada, she grew up in Whitehorse, Yukon and altogether has lived in 6 countries.
Wanda has written, co-written and edited five books - one single authored winning the prestigious CHOICE award for Best Title in the Middle East (from over 2,000 titles) and another co-written with several authors on motherhood and work-life balance reaching Amazon International best selling status. She is invited to give talks and presentations internationally, and was invited and gave a speech called "Building Bridges" to former Spanish and current Turkish heads of state at the First UN Alliance of Civilizations Forum and Third Annual Ministerial Meeting, Madrid, Spain. She loves to write on empowerment, leadership, management, evaluation, civil society, success, mindfulness and politics and has published numerous journal and book chapter articles to date. Her most recent publication is titled 'Leading in Times of Cultural Diversity: Achieving Well-being, Inclusivity, and Organizational Performance' in The Routledge Companion to Management and Workplace Spirituality, ed. J. Marques, 2019. She also writes regularly on leadership and well-being for Thrive Global Journal. She's a member of the International Consortium of Integral Scholars.
She's been involved in numerous consulting pieces and leadership development for executives in the Middle East and in the Yukon, with consulting especially for Indigenous governments and with Indigenous communities. Her PhD is in Political Science (Politics of the Middle East). She's also certified in Non-Violent Communication (NVC), as ski and previously other sports coaching, and in a few healing modalities. Her downtime includes downhill skiing, hiking and spending time in the wilderness. Born to a Jamaican mother and German father, who was a wildlife photographer, she attributes much of her love of nature and passion for travelling and learning about what people do to create a better world for themselves and others to her parents.
For more info. on the MA in Global Leadership Program at Royal Roads University go to http://www.royalroads.ca/prospective-students/master-arts-global-leadership